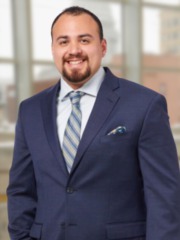 Jorge is a dedicated and skilled Real Estate Agent who has spent many years helping individuals and families navigate major life changes. He has a deep understanding of the importance of problem-solving and listening well in order to provide the best support possible. 
Born in Honduras, Jorge moved to Wisconsin when he was 14 years old. He attended West High School and later Edgewood College. Throughout his professional career, he has been deeply committed to building a stronger community, both personally and professionally. 
In his free time, Jorge enjoys spending time with his family, walking his dogs, and volunteering. He also trains in personal defense and weighlifting. As a bilingual speaker of English and Spanish, he is able to communicate with a wide range of people and provide them with the support they need. 
Jorge has always been driven by the goal of being the best that he can, and he is passionate about seeing the joy in people's faces when they achieve their goals.