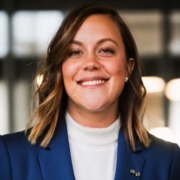 Kristen Newell is a passionate and service-driven entrepreneur, renowned for her expertise in the real estate industry. With a deep-rooted knowledge of Sun Prairie and the greater Madison area, Kristen specializes in assisting home buyers and sellers in accomplishing their goals. Alongside her dedication to real estate, Kirsten is also focused on expanding her portfolio by venturing into investment properties and rentals, generously sharing her experiences along the way. 
Actively engaged with her community, Kristen is notably recognized as the vice chair of the Sun Prairie Park n' Rec and Forestry Commission. Hailing from Wisconsin Dells, she obtained a Bachelor of Fine Arts degree in Graphic Design from UW-Stout. Leveraging her background, Kristen continues to offer freelance services to fellow agents and happily provides referrals. 
In her personal life, Kristen cherishes the moments spent with her husband and 2 boys. Whether enjoying the simple pleasures of everyday life or participating in activities like volleyball, she actively prioritizes an active and fulfilling lifestyle.