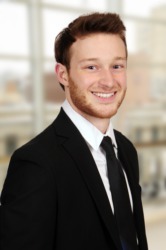 Michael Ferraro is a highly motivated and dedicated real estate agent who has been in the industry since 2019. However, his passion for real estate has been a part of his life since he was a child, growing up surrounded by the industry. This early exposure has given Michael a deep understanding and appreciation for the real estate market and the impact it has on people's lives. 
Michael's passion for helping others extends beyond just real estate. He is dedicated to helping people achieve their goals in all areas of life, using his knowledge and expertise to guide them every step of the way. This passion has driven Michael to be a successful real estate agent, as he is constantly striving for excellence in everything he does. He never gives up, even in the face of adversity, and always goes above and beyond to ensure that his clients are satisfied with the outcome of their real estate transactions. 
In addition to helping individuals buy and sell homes, Michael also has a passion for helping investors make smart investments. He believes that education is key, and spends a lot of time educating his clients on the market, current trends, and the best strategies for making smart investments. This combination of expertise and education has helped Michael to build a strong reputation as an agent who truly cares about his clients and their financial future. 
When he's not working, Michael enjoys an active and varied lifestyle. He is an avid soccer fan, playing the game, refereeing, and coaching others. He also loves skiing, spending time with his family and friends, playing board games and cards, and traveling. These interests help to keep Michael energized and motivated, and provide a perfect balance to his demanding work as a real estate agent.