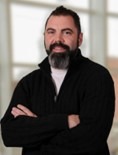 Ryan Robinson is a real estate agent who has been a resident of Madison for over 20 years. He has spent a significant amount of time exploring the city and has a deep understanding of its unique neighborhoods, local attractions, and cultural offerings. Ryan enjoys sharing his knowledge of Madison with his clients, friends, and customers, providing them with valuable insights and recommendations that help them make informed decisions. 
In addition to his passion for real estate, Ryan is also an accomplished fine artist. He enjoys painting in his spare time and brings a creative, thoughtful, and organized approach to everything he does, including his work as a real estate agent. Ryan's ability to think outside the box and his attention to detail make him a valuable asset to his clients and ensure that their needs are met. 
Ryan also has experience in small business and property management, which has given him a well-rounded understanding of the real estate industry. He has a keen eye for identifying opportunities and has a track record of successfully navigating complex transactions. Ryan is always looking for ways to improve the real estate experience for his clients and goes above and beyond to ensure their satisfaction. 
For Ryan, helping clients and friends is of the utmost importance. He values the relationships he builds with his clients and is dedicated to making the home buying and selling process as seamless and stress-free as possible. Ryan's friendly and approachable demeanor, combined with his extensive knowledge of Madison and the real estate market, make him an excellent choice for anyone looking to buy or sell a home in the area.