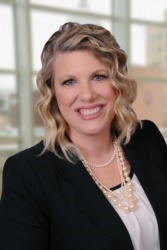 Sara Schumacher is a passionate and dedicated real estate agent who has been in the industry since 2016. Her love for real estate is evident in the level of commitment and dedication she brings to every transaction she is a part of. Sara understands that buying or selling a home is more than just a transaction, but is often a pivotal moment in a person's life. She takes the time to listen to her clients, understand their wants and desires, and provides a personalized approach to every transaction. 
Sara's drive and determination come from her desire to provide for her four children. Her passion for real estate has allowed her to pursue a career that allows her to be there for her children and support them in all of their endeavors. Her journey has taught her that things can come up during the home buying or selling process, but she is always up for the challenge and fights to make the process as smooth as possible for her clients. 
Sara's faith plays a big role in her life, and her strong love for Jesus drives her to serve her clients with integrity and compassion. She knows that buying or selling a home can be a stressful process, and her goal is to make it as seamless as possible for her clients. She is gifted and qualified to provide the best possible service, and she does so with a warm and welcoming demeanor.